Every month we receive feedback from our customers, which feeds Scomis' continuous improvement. Scomis is a learning organisation, and we value and act upon the insights our customers take time to share with us.
How Scomis gathers feedback
We send a follow-up email when we resolve any customer issue. An issue might be, for example, a request for training, logging an issue, or a quick "Help, how do I…?" The email asks each customer to send us their feedback on the service they have received from Scomis.
Customers are asked for two pieces of easy-to-give feedback to help us continuously learn and improve. Firstly, a structured rating. Customers are asked to select from Gold Star (Excellent), Green Light (Good), Yellow Light (Average), or Red Light (Poor). Secondly, any comment they'd like to share in their own words.
Customer ratings
Scomis customer satisfaction target is 95%. As you can see here, our customers rated us at 99% for January 2023.
94% of the feedback was rated as Gold Star and the remaining 5% as Green Light.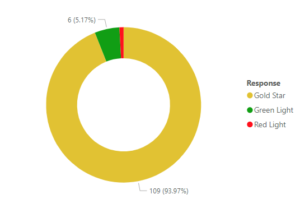 Hearing what our Scomis customers say
As we moved into the new year our Service Desk took large numbers of support calls to help our customers. We're really pleased to say that alongside the 99% ratings, the written feedback we've received has been really positive.
Customers in January 2023 described Scomis' Service Desk operators as "skilled," "helpful," "wonderful," "patient," and "efficient," amongst numerous other lovely adjectives.
We're there with the help our customers need, and our customer feedback supports this. We will continue to offer top-level support and continue to improve throughout 2023.
If you'd like more information on how we analyse our customer feedback read this blog post.
Here is a selection of written feedback, verbatim, with thanks to all our customers and especially those who have take the time to rate Scomis' service and write down their views for us.
Compliments from our customers during January
Gold Star A friendly, quick, and helpful service
Gold Star A quick response and the support was amazing. The operator was very patient and explained everything perfectly.
Gold Star All of your staff are great, friendly and helpful. Thank you so much.
Gold Star Also Scomis staff skills and how quickly the ticket was resolved.
Gold Star Always a pleasure speaking to your staff. Knowledgeable, patient, professional and always friendly. Thank you.
Gold Star Always cheerful and very helpful.
Gold Star Always excellent
Gold Star Always friendly knowledgeable and are able to resolve problems. Thank you so much.
Gold Star Always so helpful
Gold Star Amazing skills and perseverance in solving my workforce census query that we couldn't resolve
Gold Star Amazing support!
Gold Star And as ever, so polite and patient! Thank you
Gold Star The Scomis staff attitude
Gold Star Their dedication to getting the right answer. Thank you
Gold Star And their knowledge
Gold Star As always, Scomis staff member was very helpful and able to resolve my query quickly. Thank you.
Gold Star As always, staff are prompt and resolve things so quickly. We've only been with Scomis since the summer, but I am really impressed with the quality of help offered.
Gold Star As always, very helpful and friendly
Gold Star Brilliant – so patient and knowledgeable
Gold Star Came up with a solution to a tricky problem
Gold Star Difficult to select an option as they were all applicable really
Gold Star Everything was exceptional
Gold Star Excellent service, the enquiry was dealt with swiftly and informatively. Many thanks
Gold Star Excellent customer service. Thank you
Gold Star Excellent help
Gold Star Excellent my query was dealt with urgently and I was kept informed along the way
Gold Star Excellent prompt response with exactly the right information. Thanks!
Gold Star Excellent service as always! Thank you.
Gold Star Extremely helpful. Thank you
Gold Star Fab customer service
Gold Star Fantastically helpfully. Fast and efficient service. Fully explained. Thank you.
Gold Star Fast efficient service as always
Gold Star Fast resolution