In the ever-evolving landscape of school and trust operations, the impact of an effective procurement strategy – the cost-savings, time-efficiencies and certainty of compliance – cannot be overstated.  
This article delves into the dynamic world of procurement strategy. It explores how ScoStore helps education establishments to streamline supply chain and tech lifecycle management, support environmental strategy towards net zero, and ensure pupils and staff are using the right technology. 
For everyone involved in purchasing ICT equipment for education establishments, ScoStore is the online ICT store that offers best value and robust tech solutions that have been especially selected, and tried and tested, in education's demanding environments. 
What is Procurement?
Procurement is the strategic process of acquiring goods, services, and resources that an organisation needs to achieve its operational goals. It involves various stages, including  
Identifying requirements

 

sourcing potential suppliers

 

Evaluating bids or proposals

 

Negotiating contracts

 
Managing relationships with suppliers

 

Safe destruction of data and either reuse, refurbish or recycle materials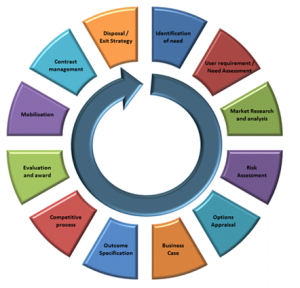 The procurement cycle © Devon County Council 
ScoStore's credentials 
ScoStore is part of Scomis' overall offering to the UK's education sector.  
Scomis has worked with schools, federations and trusts for over forty years providing software support, leadership consultancy, cloud hosting, and device and infrastructure management. As of October 2023, Scomis serves over eight hundred schools, across sixty-seven local authorities, and over one hundred trusts nationwide.  
Scomis embodies public sector values. It is a wholly-owned trading unit of Devon County Council and is not-for-profit.  
Scomis maintains its customer excellence accreditation through a commitment to continuous improvement, oiling the wheels of education throughout the country. We diligently incorporate customer insights and quality feedback into everything we do, so that we continue to meet the education sector's ever-evolving needs. ScoStore is the most recent, large-scale output of this drive.  
This article, and ScoStore, exemplify Devon County Council's thorough procurement strategy. This includes policy, guidance, training, systems and toolkits all aimed at enabling procurement excellence, fairness and transparency, and consistent best value.  
Effective procurement and purchasing are fundamental to the delivery of an education establishment's statutory duty to achieve best value. 
Read more about ScoStore's backstory