DSLS Conference October 2022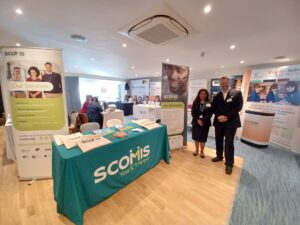 Today you'll find Scomis at the Devon School Leadership Services Conference, which runs on Thursday 13th and Friday 14th October at Saunton Sands Hotel in North Devon.  
The Exhibition Suite is running on the Thursday only and you'll find us on Stand G22. Come and say hello. Most importantly, discover how we're helping hundreds of our customers on the nation's journey into the cloud. Learn how Scomis' team of experts in education technology, tech infrastructure, service desk analysis and account management can transform your establishment. 
We're here to help you save thousands of pounds every year. We'll help you reduce your financial pressures and environmental impact. And we'll increase data safeguarding and reliability. All to benefit the improved education outcomes for children across Devon. 
Devon Schools Leadership Services (DSLS) is an exciting charitable organisation launched in September 2020 for the benefit of School Leaders, following the merger of Devon's DAPH and DASH phase associations. 
DSLS was set up to advance education for the public benefit by supporting teaching and learning, leadership and community engagement in schools throughout Devon and South West England. This is primary through the provision of relevant training and development to ensure schools have the most effective leadership, pedagogy and support in place for the benefit of children, young people and families. Scomis' services are all about that support for the benefit of improved education outcomes. 
We know from speaking to our customers that conferences like this are a great opportunity to gather intelligence, gain perspective, seek reassurance and find fresh ideas and learning from others.  
We're always inspired by the conversations that we have at conferences. We look forward to seeing you there.