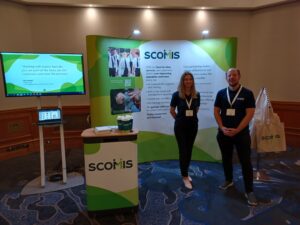 ISBL Annual Conference
14th November 2022
The Scomis team attended ISBL's annual national conference on Thursday 10th and Friday 11th November 2022. It's a sizable conference, with around 300 leaders and managers attending as delegates. This year it was held at the Birmingham Metropole.
We spent our time catching up with our customers, discussing opportunities with potential customers, attending sessions, and deepening our understanding of the current top priorities for MAT and school leadership.
The two most prevalent priorities for education business leaders are the energy crisis and staff pay.
Scomis is a customer-led organisation. As such we love events like this because it's a fresh environment to actively listen and provide solutions that support and sustain schools in improving outcomes for children.
On Friday, we delivered a presentation on the solutions and services that Scomis provide in these challenging times, and that address budgetary and technology crunches.
If you weren't able to attend this year's ISBL conference and would like to find out what the delegates there had the opportunity to see, get in touch with us here.