Keynotes from the biggest & best of EdTech
We have the privilege of welcoming the Chief Executive Officers (CEOs) and senior leadership of Scomis' four EdTech partners. Scomis invests in long-term partnerships with the biggest and the best: Arbor, ESS, Google and Microsoft.
These exceptional leaders are responsible for setting the vision and the pace of progress for education technology. For ScomisLive, they share their goals and strategies for the coming five years. These keynotes and follow-on sessions reveal and illustrate the changes you will see in your establishment in the next few years. Expect insights and inspiration on the future for hybrid or blended learning through sustainability and product revolution.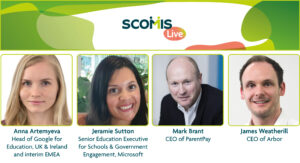 Session details:
Reducing schools' environmental impact with tech
Anna Artemyeva
Head of Google for Education
10.45am 16th March
ParentPay's future vision for SIMS MIS
Mark Brant
CEO, ParentPay
10.45am 16th March
Before and beyond Remote Learning
Jeramie Sutton
Senior Executive,  Microsoft
10.45am 17th March
Arbor's future vision for MIS
James Weatherill
CEO, Arbor
10.45am 17th March