The latest version of the Scomis Hosted Application Connector includes many improvements over previous versions.
Why upgrade?
Although this version has been available since July 2021, we are seeing a significant number of customers who are still connecting using older Connectors. In order to benefit from the improvements we have made, ensure consistency and therefore enable us to provide the most effective and efficient service levels, it is important that you upgrade your Connector to the latest version as soon as possible.
As Version 6.16 and above of the Connector use a more resilient and higher capacity route, we need to decommission the legacy routes used by older versions. By upgrading, you will also therefore ensure continued connection beyond the 1st of January 2022.
Do I need to upgrade?
From 22nd of November 2021 if you are connecting with an older version of the Hosted Connector, you will start to see this message at login: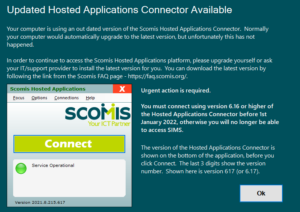 How do I upgrade?
You can download the latest Connector by clicking on the green button on this knowledge article.
The process of upgrading should only take a couple of minutes and is very straightforward, but if you need any assistance then please contact the Scomis Service Desk on 01392 385300, scomis.devon.gov.uk or via MyScomis, your new self-service portal.