First 12

months of

Scomis

Customer Thermometer
In July 2022, as part of our commitment to continuous improvement, we started using a one-click survey tool called Customer Thermometer. 
It replaced our previous method for collecting feedback, a link to a survey of several questions on Microsoft Forms, which wasn't a quick enough way for customers to let us know how we were doing.  
We switched to Customer Thermometer to improve our customer experience and here are the results. 
How

Scomis

'

Customer Thermometer work

s
We embedded the Customer Thermometer survey into the resolution emails sent to customers from MyScomis. This makes it easy for customers to rate us on the service we have provided on every occasion by just clicking on one of these buttons within the email itself. And that's it, no links to follow, just a button to click. There is an opportunity to add deeper feedback but it's not mandatory.  

Customer feedback statistics
In the first 12 months of Scomis Customer Thermometer, we received 787 responses. 
Our customer satisfaction rating for the 12 months is 99%. We calculate this figure by adding together the Excellent (gold star, 93%) and Good (green, happy face, 6%) ratings.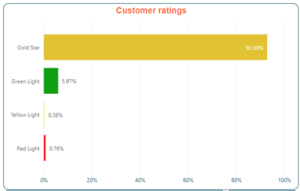 Over the 12 months we have had a total of nine (1%) Average (amber, meh face) and Poor (red, sad face) ratings.
Because we receive customer feedback immediately, we have been able to deal with any issues in real time, resulting in further improvement in our customers' experience. 
Gathering

deeper feedback 
After a rating has been clicked within the resolution email, customers have the choice to leave comments, and/or pick from a list of options to tell us what most contributed to their experience on that occasion. 
The leader board below lists the options available, and it shows us that 211 of the Excellent and Good ratings said it was because Scomis staff skills are most important to customers. 

Fabulous feedback
We have also received written compliments from customers, which we pass on to our colleagues at the end of each month in our internal Fabulous Feedback publication. We also publish them on our blog and in our customer newsletter. 
We grouped some of the feedback together so that we could gauge customer sentiment through the year, and then because we like making data visually interesting and easy to draw inferences from, we made it into a bar chart.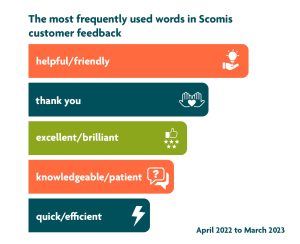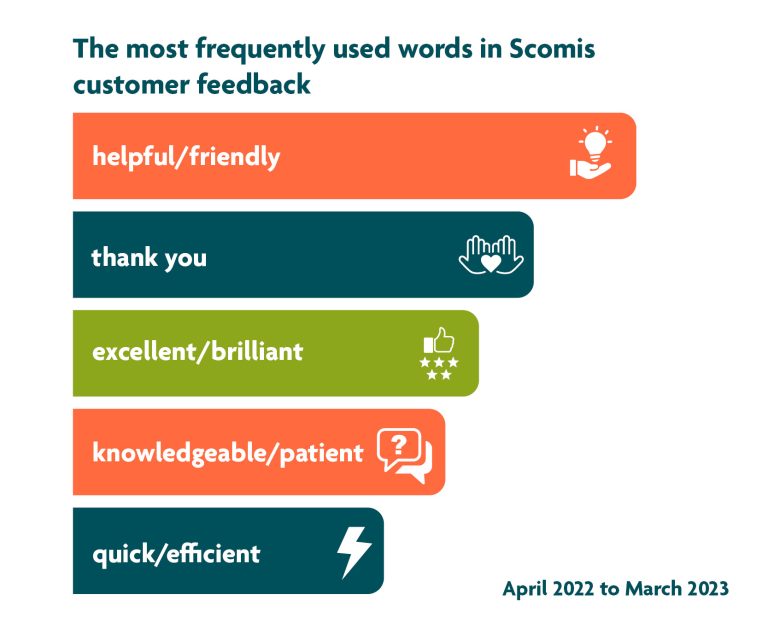 Using Customer Thermometer as a research tool
We've started sending some quick polls using the Customer Thermometer survey to our Training Review Panel, which is a selection of customer volunteers that have been helping us to review our training service. 
These quick polls are successful in gathering insight to help inform our training offering to customers. We will expand these polls to other Scomis services next.  
Want to join Scomis

'

R

esearch

P

anel?
Sign up for our newsletter, as we will be recruiting to the new Research Panel soon!  
Continuous improvement
We value our customers' opinions, and we want to provide a positive experience at all times. By giving us feedback – either through joining our Research Panel or with a quick click on Customer Thermometer – customers help us understand areas we could improve, give us insights into preferences, and spark new ideas and innovation to help us develop our products and services.