At Scomis we are committed to seeking feedback from our customers to gain insight that helps us to continuously improve our services.
When our Service Desk resolve customer queries we send an email asking for feedback on the service they have received.
Here are our customer satisfaction ratings from the feedback we received during January 2023.
We received 116 responses during January and as you can see below, 109 of those were a Gold Star rating!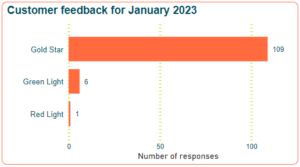 The ratings above mean our overall customer satisfaction score for January is 99.1% – surpassing our target of 95%!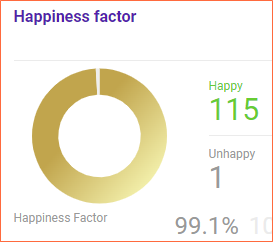 We ask customers to select one Driver to indicate their main reason for choosing the Gold, green, Yellow, or Red rating. As you can see below, being kept informed of the progress and quick resolutions were the top two drivers of customer satisfaction in January!

We receive lots of lovely compliments from our customers! Here are some we received during January.
Compliments from our customers during January
Gold Star A friendly, quick, and helpful service
Gold Star A quick response and the support was amazing. The operator was very patient and explained everything perfectly.
Gold Star All of your staff are great, friendly and helpful. Thank you so much.
Gold Star Also Scomis staff skills and how quickly the ticket was resolved.
Gold Star Always a pleasure speaking to your staff. Knowledgeable, patient, professional and always friendly. Thank you.
Gold Star Always cheerful and very helpful.
Gold Star Always excellent
Gold Star Always friendly knowledgeable and are able to resolve problems. Thank you so much.
Gold Star Always so helpful
Gold Star Amazing skills and perseverance in solving my workforce census query that we couldn't resolve
Gold Star Amazing support!
Gold Star And as ever, so polite and patient! Thank you
Gold Star The Scomis staff attitude
Gold Star Their dedication to getting the right answer. Thank you
Gold Star And their knowledge
Gold Star As always, Scomis staff member was very helpful and able to resolve my query quickly. Thank you.
Gold Star As always, staff are prompt and resolve things so quickly. We've only been with Scomis since the summer, but I am really impressed with the quality of help offered.
Gold Star As always, very helpful and friendly
Gold Star Brilliant – so patient and knowledgeable
Gold Star Came up with a solution to a tricky problem
Gold Star Difficult to select an option as they were all applicable really
Gold Star Everything was exceptional
Gold Star Excellent service, the enquiry was dealt with swiftly and informatively. Many thanks
Gold Star Excellent customer service. Thank you
Gold Star Excellent help
Gold Star Excellent my query was dealt with urgently and I was kept informed along the way
Gold Star Excellent prompt response with exactly the right information. Thanks!
Gold Star Excellent service as always! Thank you.
Gold Star Extremely helpful. Thank you
Gold Star Fab customer service
Gold Star Fantastically helpfully. Fast and efficient service. Fully explained. Thank you.
Gold Star Fast efficient service as always
Gold Star Fast resolution