Inspiring, extraordinary and visionary keynote speakers
The keynote speakers that we're introducing today bring extraordinary knowledge and experience to ScomisLive. They will sprinkle sparkling insights and motivating inspiration across the two days.
On 16th March, Zoe Scaman opens ScomisLive by talking us through five big shifts in technology. She will envision potential learning environments ten years from now and share how they will look and feel. Daniel Sobel brings deep expertise in global best practice for #SLT and inclusivity for blended learning (part classroom part online).
On 17th March, Professor Sugata Mitra, winner of the first $1m TED prize in 2013, kickstarts our day. Sugata created seven "Schools in the Cloud," with this prize, and is a true inspiration for our times. Dr Emma Kell, renowned specialist on student and teacher wellbeing, retention and recruitment, leads our wellbeing theme.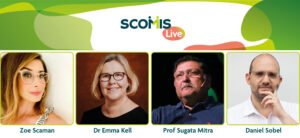 Zoe Scaman will take us through the big shifts in technology that will impact EdTech, and show us examples of how that might take shape in the learning environment. Prepare for your imagination to take flight:
Give students a virtual toolbox and let them climb inside giant simulations of machines to test and compare different settings and scenarios
Supertutors and TikTok teachers
Class trips to Ancient Egypt and back for home time
Running simulations on Earth 2.0 to evaluate the environmental impact of new food production methods, or urban planning
Dr Emma Kell rounds out our knowledge of with academic rigour, and improves our working lives and resilience with easy changes we can make. Wellbeing in education, as for all sectors, can be at risk of being all talk and no action. Emma leaves us in no doubt of our responsibility – and most importantly our ability – to practice wellbeing for ourselves, as professionals in the workplace, and modelling it for students in the learning environment.
It is an honour to welcome Prof Sugata Mitra to ScomisLive and to introduce him to you. We can do no better than to share his Wikipedia page and encourage you to read it. An extraordinary human being.
Daniel Sobel's keynote at our last ScomisLive, in the beforetimes of 2019, was hugely popular. His insights were described as a memorable highlight in delegate feedback forms. So inviting him back was a no-brainer.
This year Daniel will cover:
What inclusivity looks like, with specific reference to technology and blended learning
How we can model 'great learning' in a blended classroom
What global inclusive best practice for technology could look like in the British classroom, and what can we learn from around the world
What can MAT and school leadership can do to incorporate all this into their goal planning
How can they facilitate these goals for their teams?
How Scomis integrates with MAT and school leadership to achieve best practice inclusivity in the blended learning environment